UoN joins world in marking World Blood Donor Day 2016
Submitted by d.omido on Wed, 2016-06-15 10:39
Location / Venue:
Great Court - Main Campus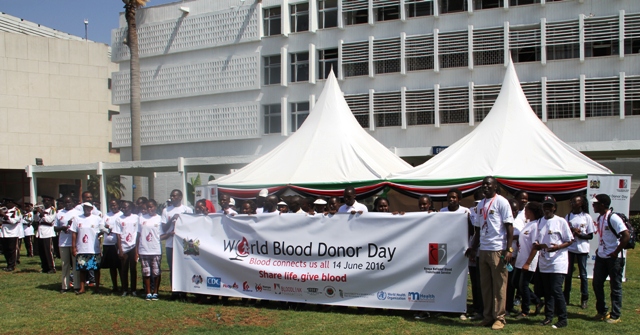 World Blood Donor Day celebrations at the University of Nairobi.
The University of Nairobi (UoN) hosted the World Blood Donor Day on 14th June, 2016 at the Great Court.
The event which was hosted in collaboration with the Kenya National Blood Transfusion Service (KNBTS) and the Ministry of Health is celebrated worldwide and annually on June 14th with the objective of creating awareness on the importance of blood donation, the need for safe blood for transfusion and to thank blood donors for their gift of life.
The theme for this year is 'Blood Connects Us All.'
During the event, blood donors and recipients gave moving testimonies and encouraged more people to donate blood voluntarily and regularly with the slogan 'Share Life, Give Blood.'
UoN Vice-Chancellor, Prof. Peter Mbithi encouraged students and members of staff to join in the blood donation drive, as part of giving back to society.
He congratulated the Kenya Red Cross- UoN Chapter for playing a leading role in holding blood donation drives in the various University Campuses.
The Director, KNBTS, Dr. Margaret Oduor, thanked blood donors who save lives every day through their blood donation and called on Kenyans to join in the initiative and save more lives.